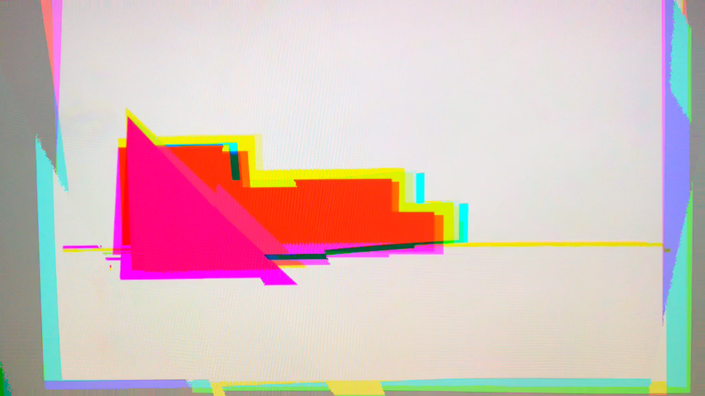 FORECAST TRENDS LIKE A FUTURIST
Learn how to Explore, Identify, Connect and Present Future Scenarios focused on macro trends for the creative industries
Who is this Course for?
Whether you are a Designer, Buyer, Merchandiser, Marketer, Academic, Student or simply Curious, becoming knowledgeable on how future patterns can be researched, identified and presented, is what this comprehensive course will take you through step-by-step.
The course is for those who want to study:
A rigorous methodology of researching and identifying future behaviours, cultural and societal shifts

We will focus on Macro and Micro Trends affecting the Creative Industries

How to cross triangulate the Cultural, Technological, Scientific, Socio-Political and Artistic signals that point to the future

In the student body we have foresight strategists, designers, consumer trend experts, designers, writers, film makers, anthropologists, speculative designers, social science experts, marketers. Why? Because macro forecasting methodologies that pull from across industries and fields of vision end up influencing the world, not just one industry



👁️ DISCLAIMER
THIS IS A COURSE FOR PURPOSE LED PROFESSIONALS LOOKING TO EXPAND THEIR METHODS, VISION & MAKE A DIFFERENCE IN THE WORLD

THIS IS A COURSE FOR LONG TERM THINKING DRIVING ACTION IN THE PRESENT, NOT PERPETUATING SHORT TERM UNSUSTAINABLE TRENDS

If you are enrolled in our course 'How to Research the Future', please email us at [email protected] to get our discount

What To Expect in Class
What will be your Toolbox and the Resources made available to you? For a lifetime.
6 Modules with an average of 7 to 20 micro and structured lectures

Videos tutorials pre-recorded so that you can learn at your own pace

Mp3 recordings of videos

Written transcripts (english)

1 Live session per month with replays available

Immediate Student membership to the Trend Atelier Community with real time feedback and exchange with our network from around the world

Downloadable Research Library

Extensive inspiration links provided within lectures (a favourite of most students who find this expands their horizons and understanding of futures literacy)


Downloadable Trend Report template

Downloadable Exercises

Quizzes throughout the modules

Downloadable Course Workbook

Tutorials on how to organise and develop your research

Tutorials on how to create your report from writing to visuals

Certificate of Course Completion

Learn on the go on your phone via the Teachable App (available on IOS only)
The Course is now accepting enrolments
In this course we aim to expand your creative and philosophical thinking through comprehensive and inspiring lectures, live sessions as well as real life tangible examples. We will focus on both the theoretical knowledge and the practical deliverables of future forecasting:
Researching and identifying future shifts in behaviours and aesthetics

Structuring your thinking and your research

Delivering an impactful forecast both visually and in written form
There are a number of challenges to gain confidence and experience we will tackle. Do any of these pain points feel familiar?
How to analyse signals and patterns of behaviour by applying a structured methodology?

How to narrow down all the information collected into key messages and solutions?

What are the different types of research?

The balance between Data gathering and Intuitive research?

How & when a trend repeats itself?

How to work around a project brief?

How to write about future trend concepts and direction?

When to stop researching and to start making sense of the patterns?


What is the difference between Micro & Macro trends?

What is visual prototyping?

What is scenario planning?
Our Common Goal
We will prioritise on the process of Hunting, Identifying and Gathering the signals of the future with your instructor Geraldine Wharry, a leading futurist with 20 years of global experience.
Researching Trends and being in tune with the future of design and the world at large is a key skill in the Creative Industries. And Future forecasting has to power to drive positive change in the world, as it has great influence.
TREND ATELIER IS A COMMUNITY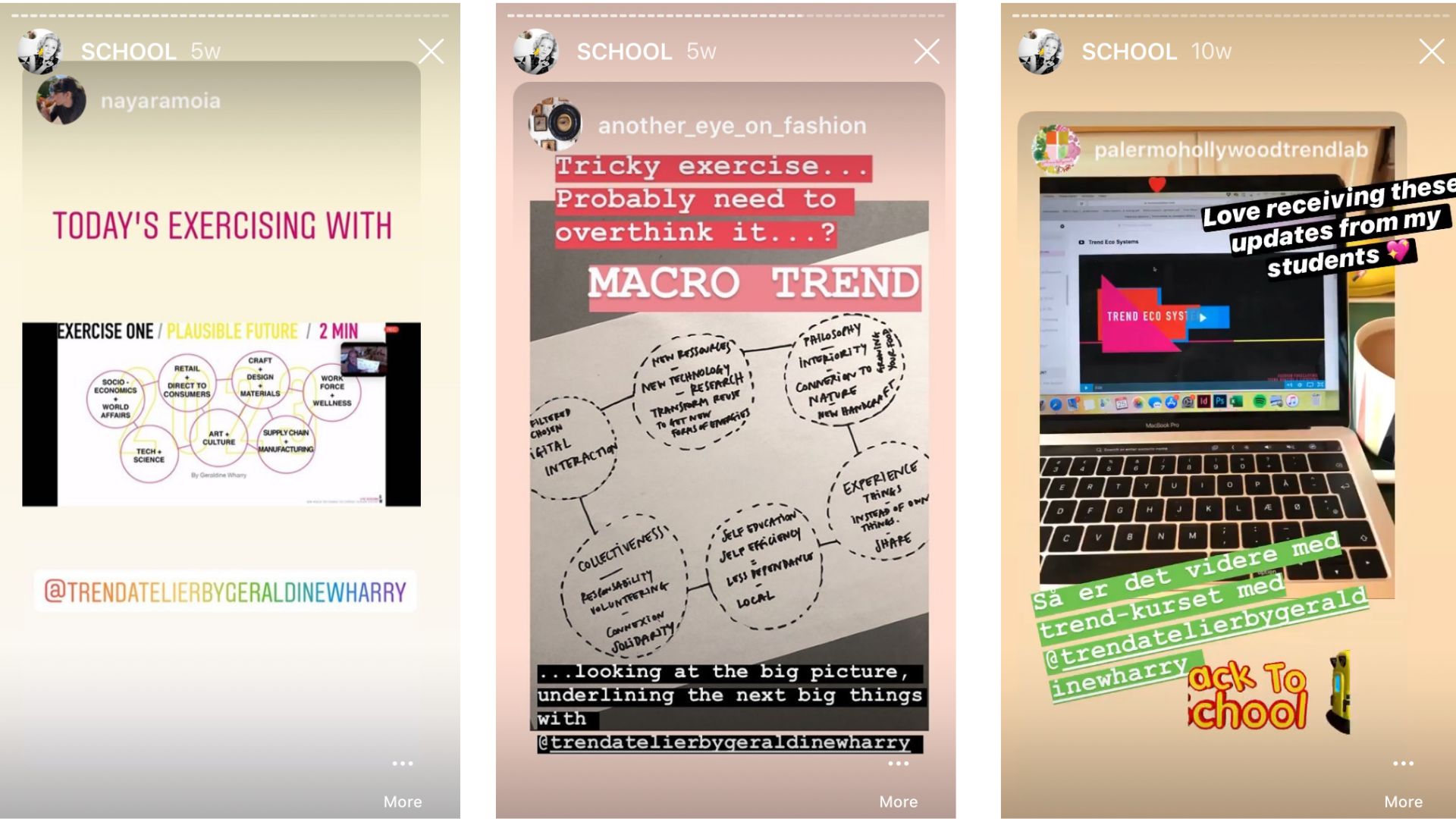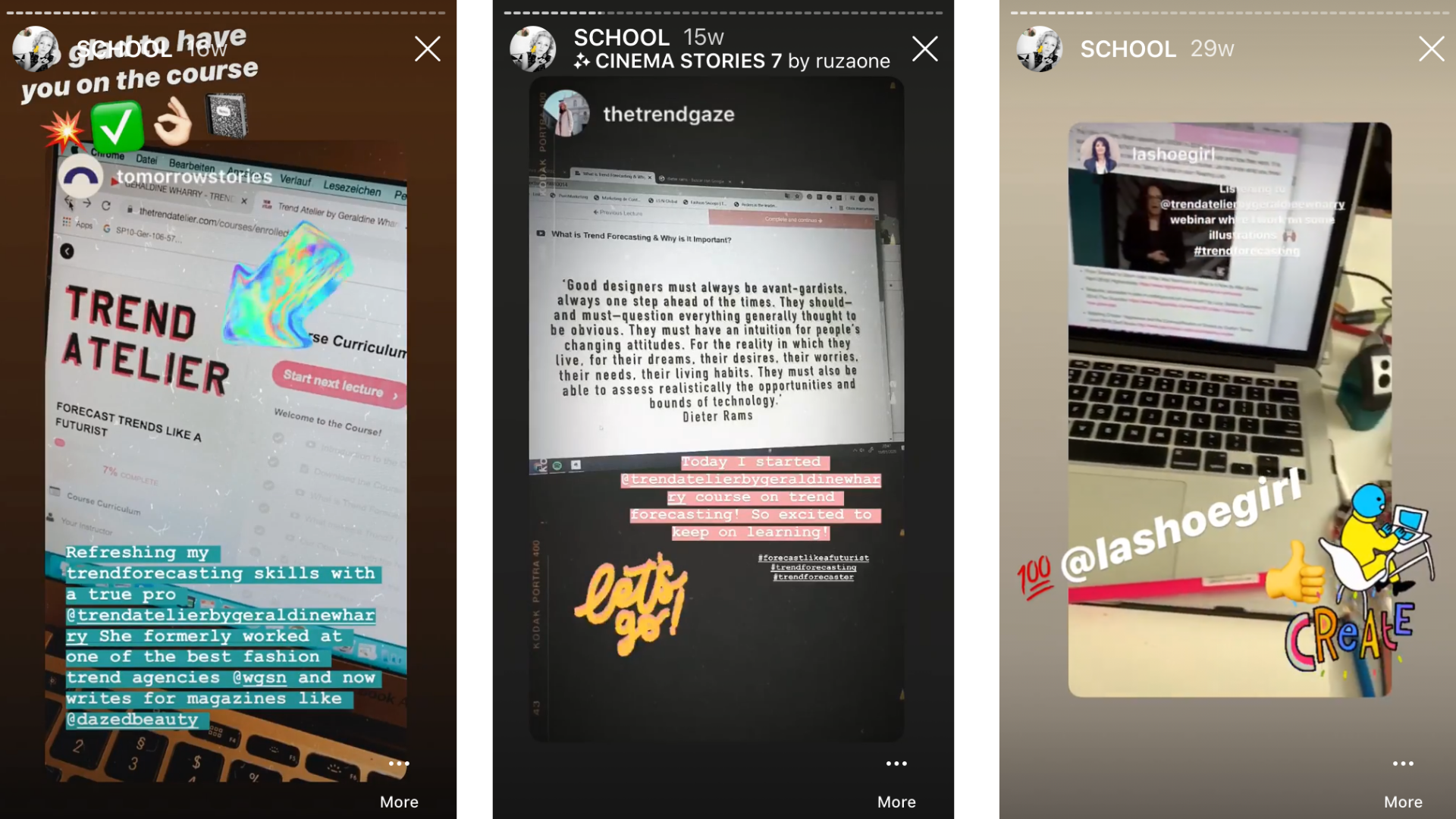 RESULTS 👇🏻 OUR END OF COURSE SURVEY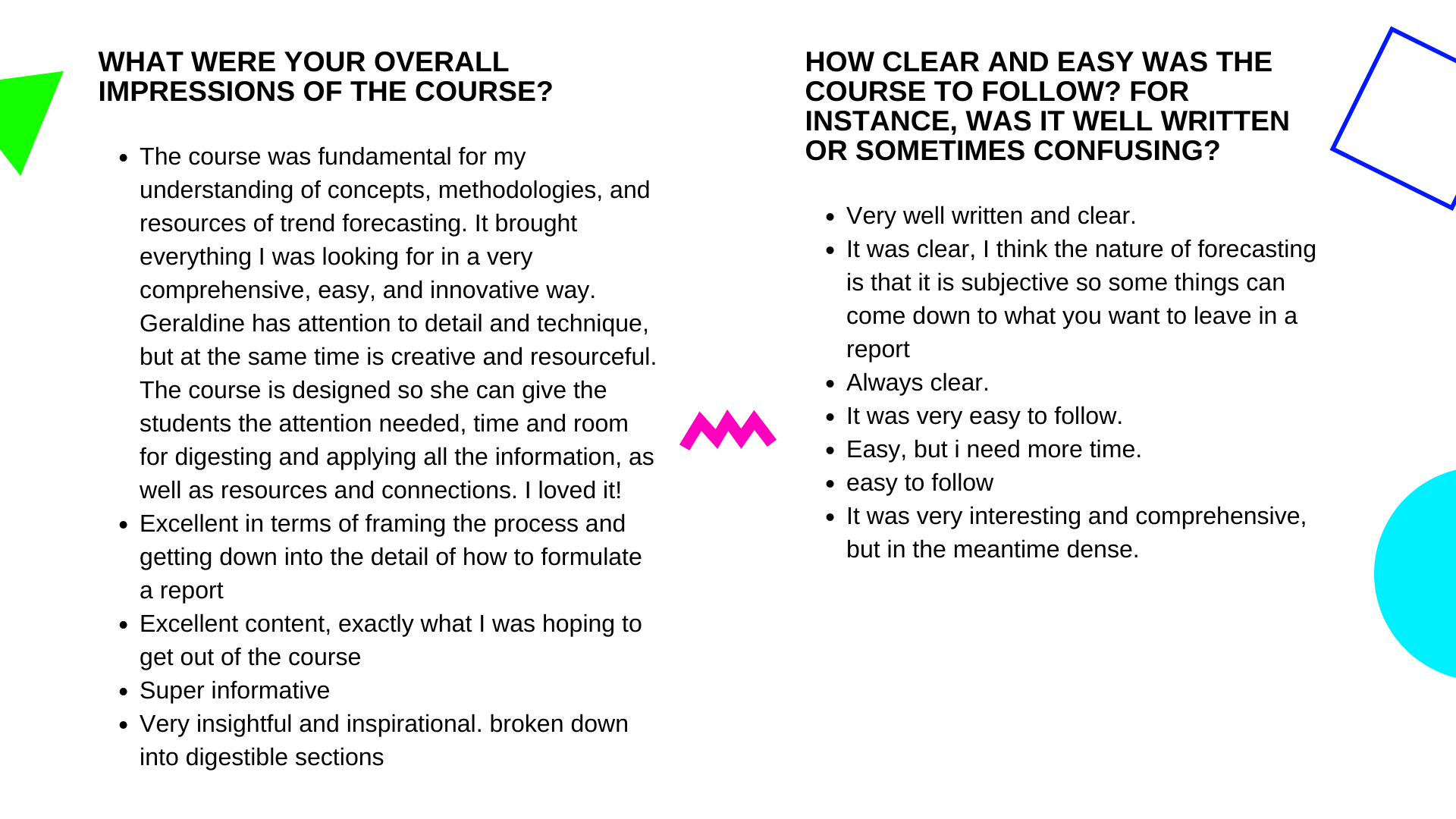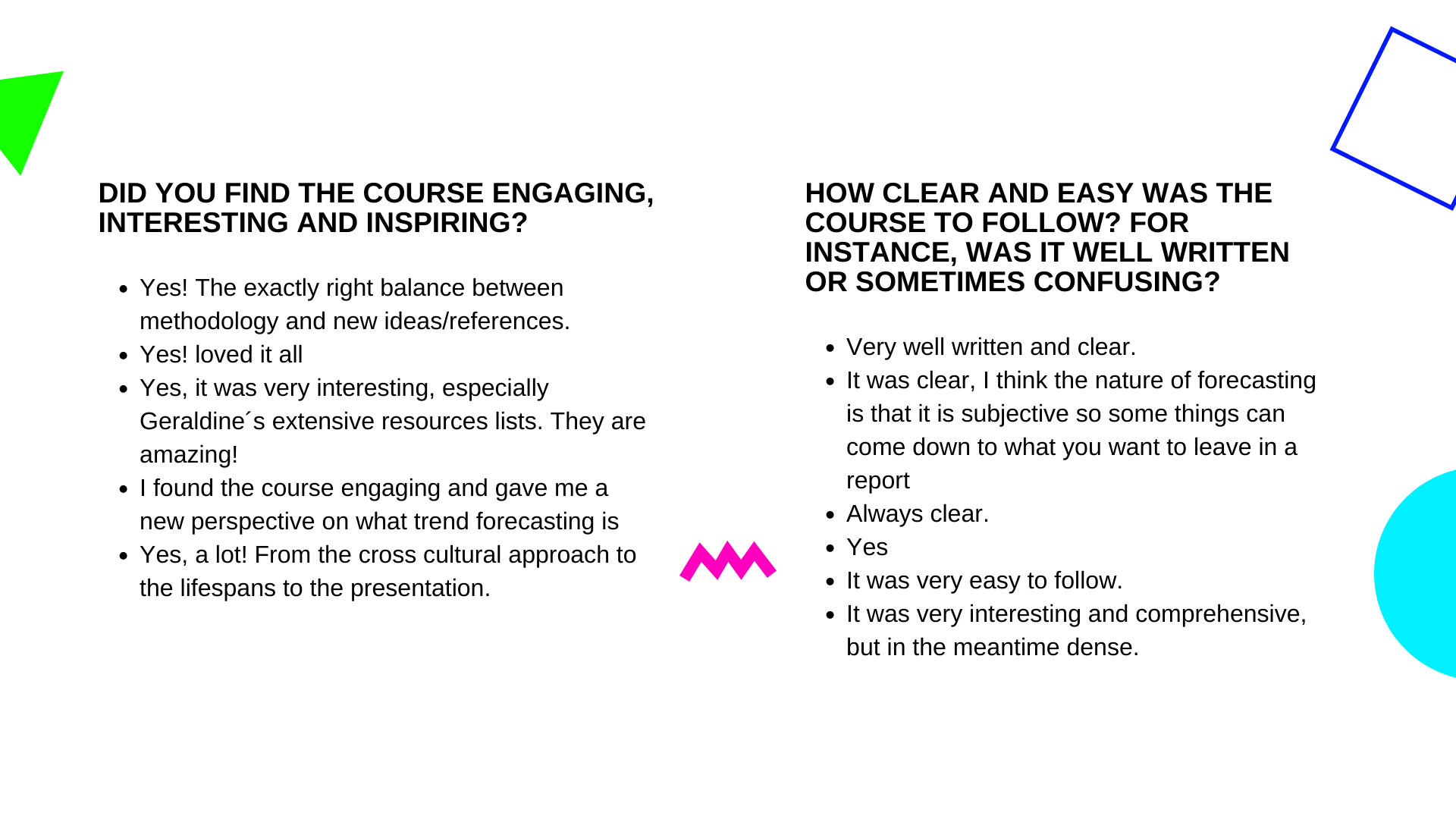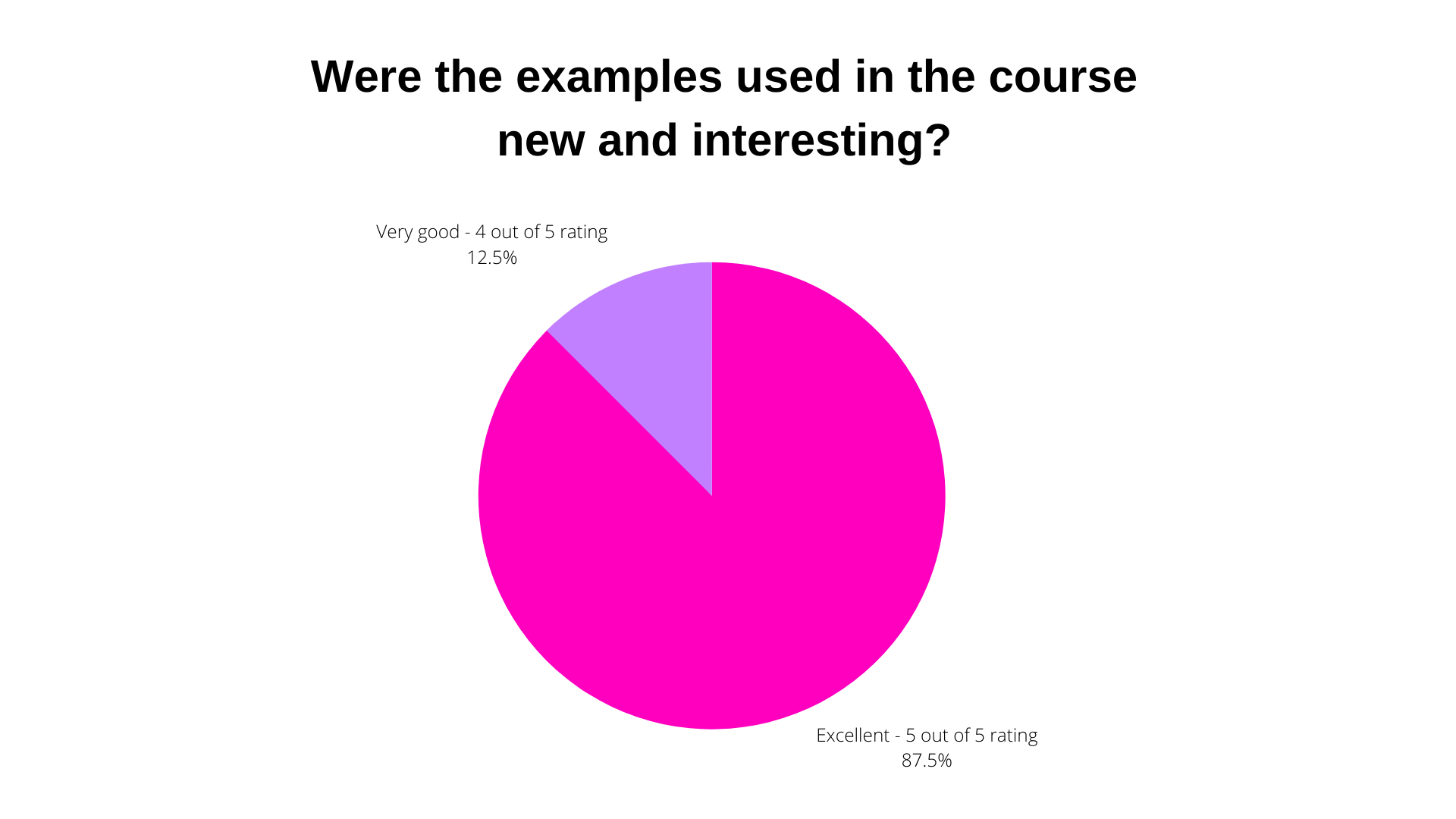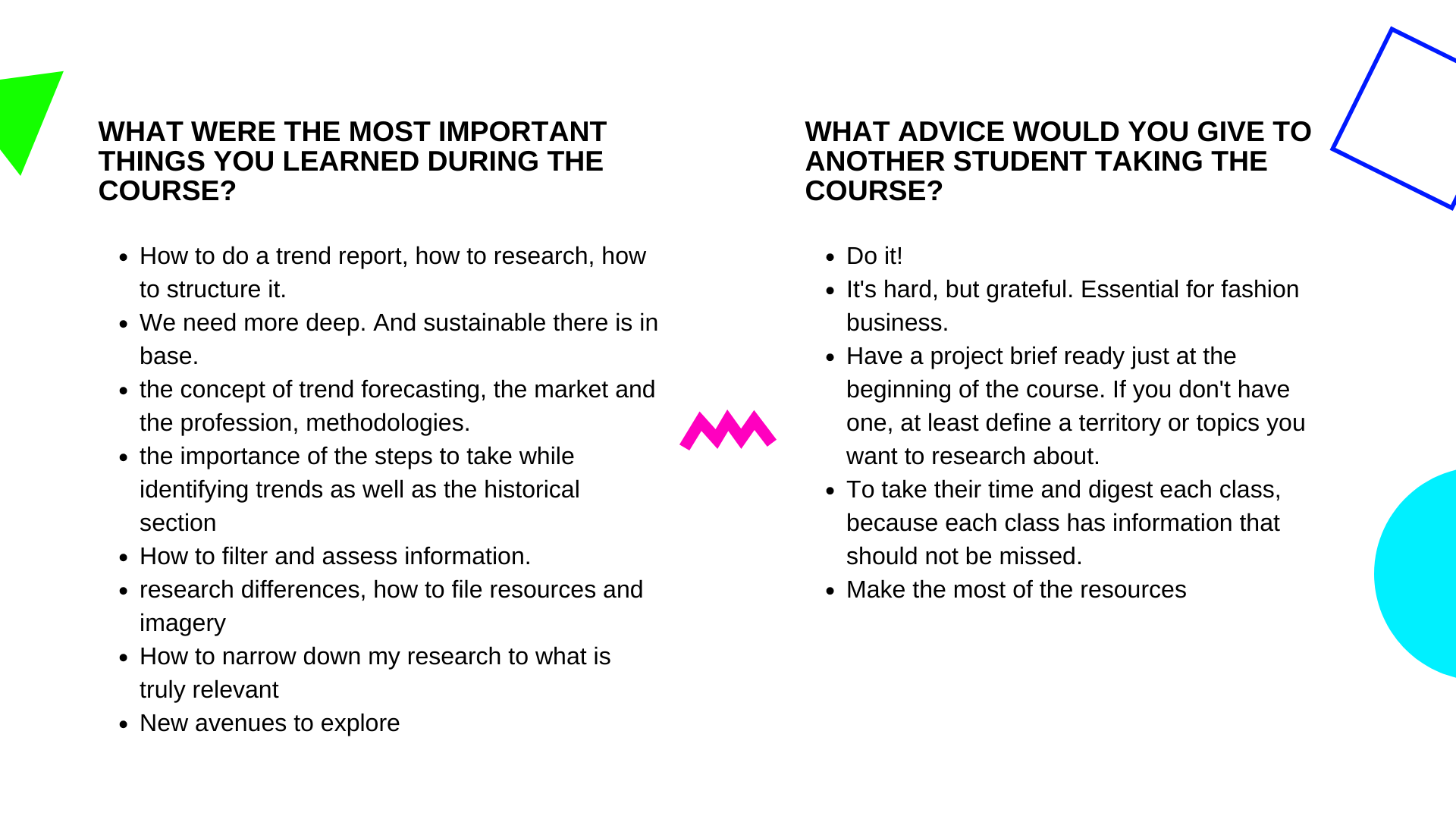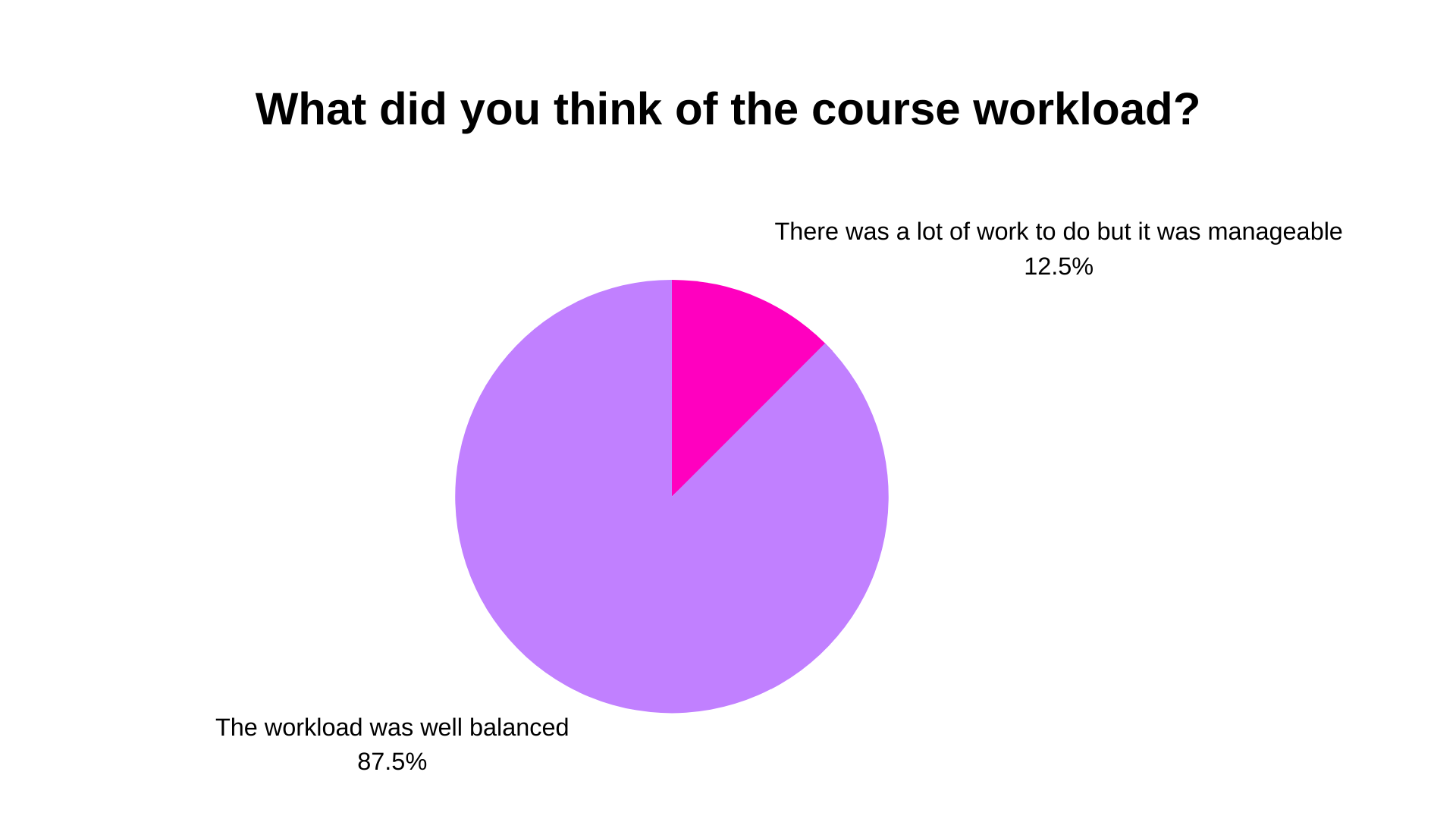 Your Teacher will be right there with You
How will you be able to access your Instructor, a globally recognised expert, when you need to get feedback, share your comments and network?
Through the Trend Atelier Community you will get feedback and exchange with your teacher as well as other future curious minds

Live Private Sessions with your teacher once a month
Your Instructor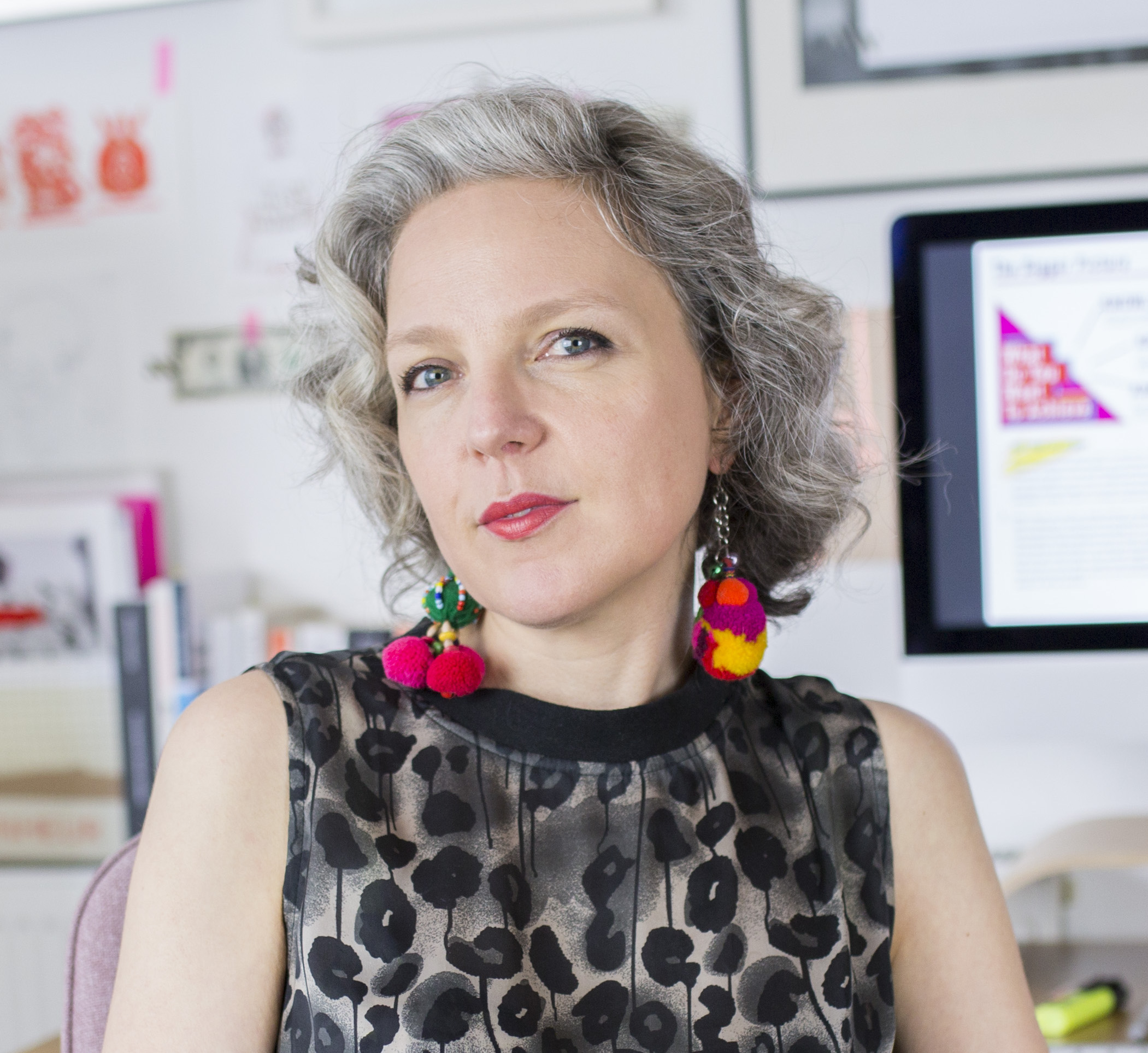 Geraldine Wharry's global experience as a Fashion Futurist and Designer has led her to collaborate with leading brands, agencies and institutions across Europe, Asia and the USA within Fashion, Beauty, Tech, Innovation, Marketing and Retail.
Her clients have included Wgsn, Nike, Seymour & Powell, Conde Nast, Dior Beauty, Samsung and 7 For All Mankind.
She is based in London where she runs her relational practice and consultancy, at the crossroads of future foresight, education and creative collaborations.
Passionate about knowledge and from a family of educators, artists and scientists, Geraldine has also dedicated herself to public speaking, mentoring, lecturing at leading universities and writing for publications ranging from Dazed Beauty to Fashion Network.
Geraldine's thought leadership and views on the future are regularly featured in the press by leading publications: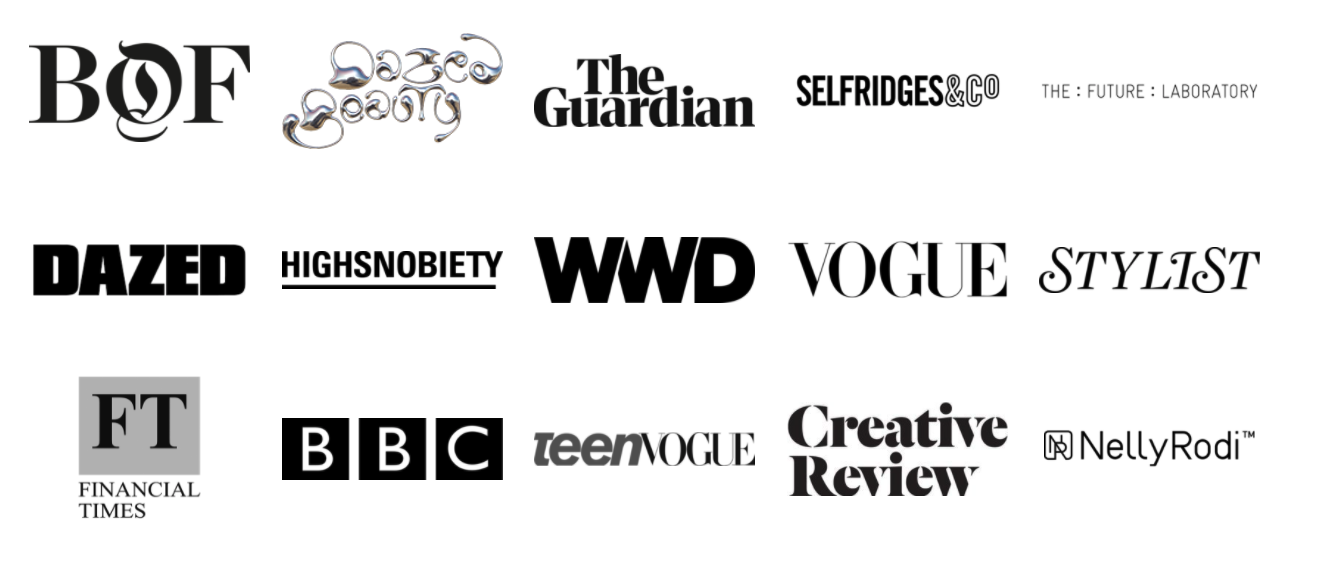 INSTAGRAM | TWITTER | FACEBOOK | LINKEDIN
What Students Say
The transformation this course provides ranges from new methods, expanding a sense of purpose, growing your confidence and skills to being able to attract new clients. Here's some of what students from all over the world have gained from taking my Master Class on Future Forecasting.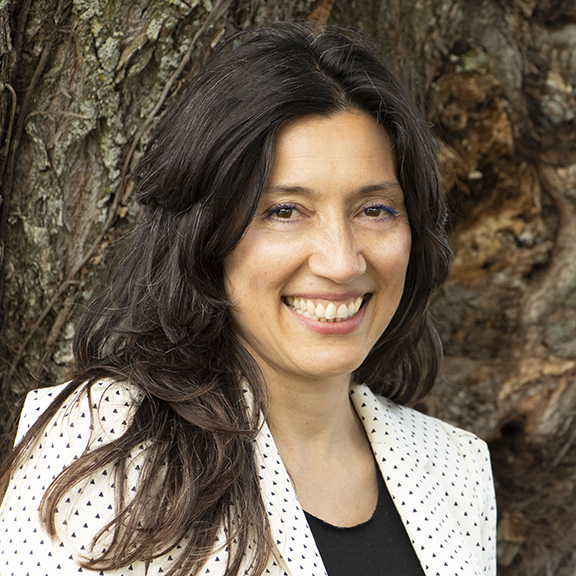 "This was a great course with an awesome instructor! The course helped me understand how to combine my intuition with data to form a comprehensive trend report. When I started the course, I did NOT know the theory behind trend forecasting. You, the course, gave a clear understanding of the theory behind trend forecasting and its importance. It was inspirational and very resourceful. I would love to make the whole course into a hardcover so I can have it at all times. Thank you so much!"

- Ana Ortega, Fashion Educator, New York USA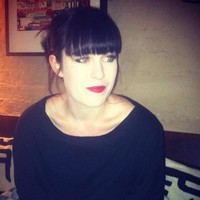 "I just wanted to say I've loved the course - everything about it! I have gained some great insight, direction and confidence from listening to your experience. I have decided to re-engage with design more sustainability and authentically and this course has given me such a wealth of research to explore and take with me. Thank you for all our help."
- Christine Teeling, Print Designer, London UK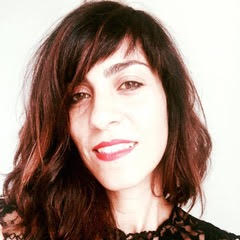 " Geraldine taught me that to be a forecaster and detect the future, not only you must work on your skills to recognise patterns through society and disciplines but simultaneously you should keep thinking how those changes, that are occurring before your eyes, will impact the future. Geraldine was an inspiring teacher, futurist and even more as a person."
- Giulia Moschen Bracho, Trend Researcher, Barcelona Spain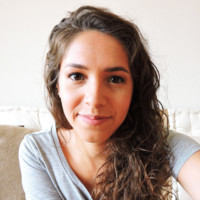 "Thank you Geraldine for sharing all this amazing content. I've been studying Trend Research for years now, and I'm always looking for more experts to learn from. There is just so much to discover! Thanks again! :)"
- Andrea Riggio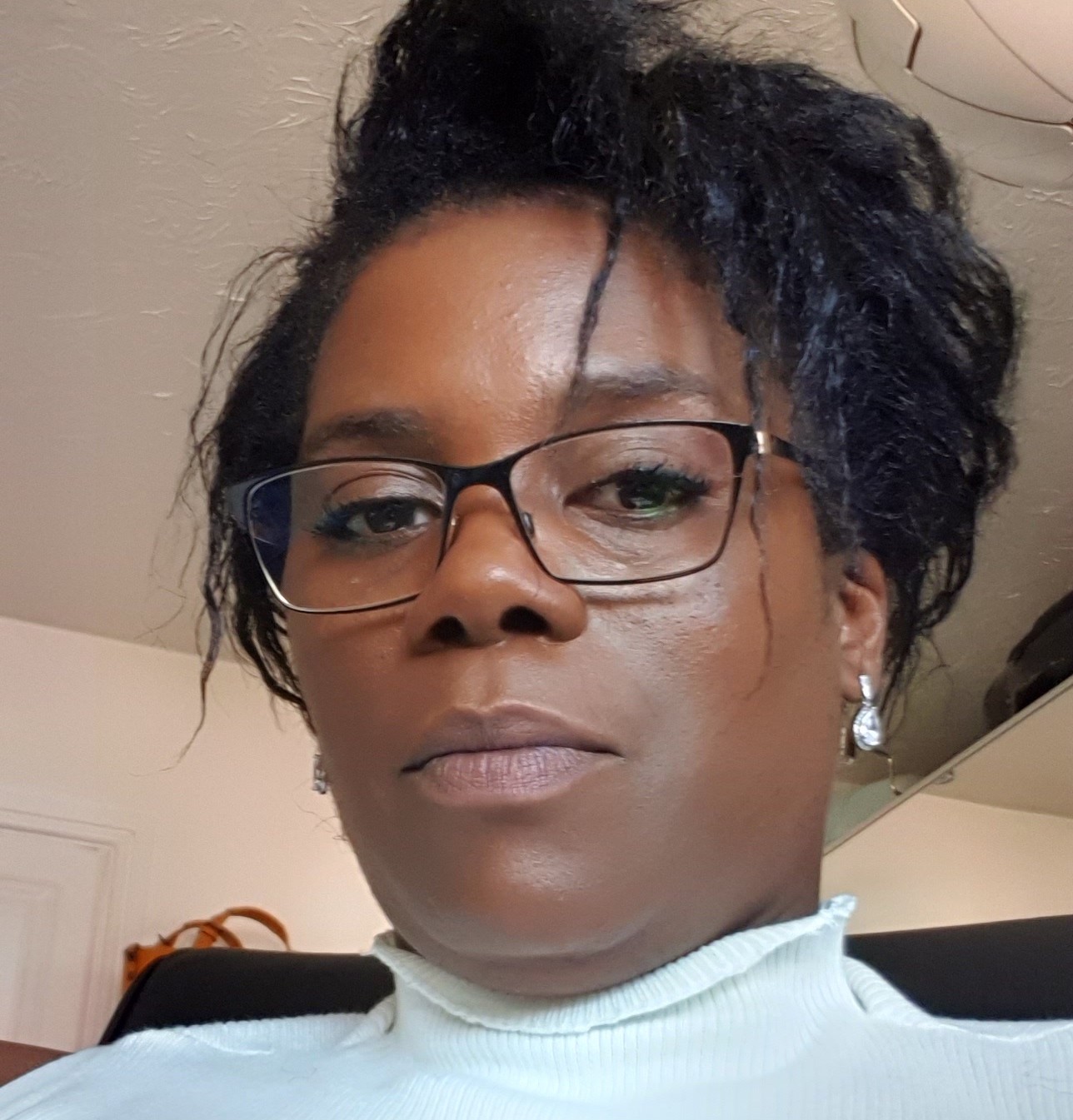 "Very excited to be here and look forward to sharing ideas and inspiration. Really excited to be doing this course - it's something that I've wanted to do for a very long-time, and this course comes at a great time and the format is amazing too..!! This course addresses and delivers against all of my expectations. I'm very interested in the impact of trends on health and wellness and how the future of science-led innovation, and technology will deliver innovation and insights in new and exciting ways - add design/system thinking, the creative industry and the solutions are exponential. This course is amazing and has already provided some break-through thinking. Thank you Geraldine and I look forward to learning more and applying what I'm learning in new ways."
- Melanie Irons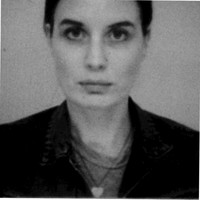 "I am super excited to be part of the course - thank you so much Geraldine. I have to digest and dig into this now as there has been so much valuable information already. For me, the thought of "collective fiction will shape society" is def an epiphany and while it is quite obvious, I've never really put it into context until now :0 Another thing is the possibility for trend forecasting to help shaping a more sustainable mind set, so we can finally leave the crazy "24 collections a year madness" behind. Personally, I feel mainstream fashion is so anachronistic and out dated on so many levels, and it is time for a change!"
- Julia Klein Klute, Denim Designer, Berlin Germany
PRECISION
If you're not a Fashion Designer, or a Designer at all for that matter, the course will be invaluable as you will garner the methodology your instructor has herself applied to fields as diverse as Beauty, Retail, Tech and Fashion.
The course will teach how to structure your argument and communicate key future concepts, through visuals and writing. And in the age of Automation and Artificial Intelligence, to differentiate yourself from a machine, it's key to remain original and have a point of view through critical thinking and creativity.
The curriculum cannot teach you how to be an original thinker, but through exercises and discussions, you will develop your own sense making. Last but not least, we aim to question and redefine the role of future trend forecasting within the context of climate change and sustainability in the style industry.
Frequently Asked Questions
When does the course start and finish?
The course is currently accepting new students
How long do I have access to the course?
After enrolling, you have unlimited access to this course for as long as the school exists.
What if I am unhappy with the course?
We would never want you to be unhappy! If you are unsatisfied with your purchase, contact us in the first 14 days. Please check our policy on our Terms of Use page.
I have other questions before enrolling. Can I talk to someone?
Of course. Simply email
[email protected]
and we'll be glad to answer your question before you enrol.
I'm an experienced Trend Forecaster. Would I still benefit?
I always enjoy the opportunity to learn new tips and tricks by watching the process of others'. I've packed this course full of content from my personal experiences that I hope you'll find useful! I think for experienced forecasters this course will help confirm and refine their techniques and also bring valuable examples and resources to add to their toolbox.
I am not a Fashion Designer, will this type of Trend Forecasting Methodology work for me?
Absolutely! I work across a variety of fields from Beauty to Tech, Retail to Fashion and throughout I have been able to apply the same methodology successfully with my clients and in my business.
With this course can I get a job as a Trend Forecaster or Futurist?
The course will teach you the tools to research trends and communicate your findings into future solutions and will increase your skills as a professional and a team member. However I cannot guarantee a job as trend forecaster will be lined up for you after this course. This Master course will greatly equip you and give you a huge amount of insider tools, methodologies as well as build your confidence. Furthermore the certificate will be something you can leverage on your CV. The knowledge you acquire in books and courses MUST be combined with professional experience with teams and clients in order to acquire a professional title of Trend forecaster or Futurist. Just like the career of a Fashion Designer for example, once a student graduates from University, they start with an assistant designer role, then move to associate designer, then move to designer usually in the span of 3 to 8 years. Please use this as a benchmark as becoming a fully fledged Futurist or Trend Forecaster takes several years of work in research, forecasting and working with companies. If you are thinking of giving yourself the title of Futurist upon taking this course but have little to no industry experience yet, please start with the most commonly used titles by foresight leaders such as WGSN and the Future Laboratory of either Assistant or Creative Researcher. I know the title of Futurist is very alluring for those of us who are very passionate about future forecasting I get it! But don't gulp life too quickly is my advice, take the time to learn and apply your craft. This is what I teach my students and the result has been that through learning and practice, they eventually reach their goals successfully.
Will this course teach me how to manage a trend forecasting project?
We will cover the fundamentals of structuring and creating a trend report. We will also discuss the different types of deliverables and what is a project brief, whether it's been given to you or created by you. But I will not teach how to create a detailed project brief, pitch and price your services, acquire more clients and sell your services as the course is not for business coaching.
When can I have access to my teacher?
I will track your questions and progress, post my feedback and guidance in our Community page as well as our school's platform. This is where you'll find your teacher active British Standard time from 9am to 6pm Monday to Friday. Bear in mind I run a business myself and will respond to your questions as soon as I can during business hours. The added benefit of the course is there will be a live session once a month to answer questions.
Course Certification
We offer a course certification to be added to your CV and Portfolio as part of your Education level.
How long does it take to complete the course
The classes can be completed in approximately 30 hours but many students take more time because of the amount of links and bonuses we share